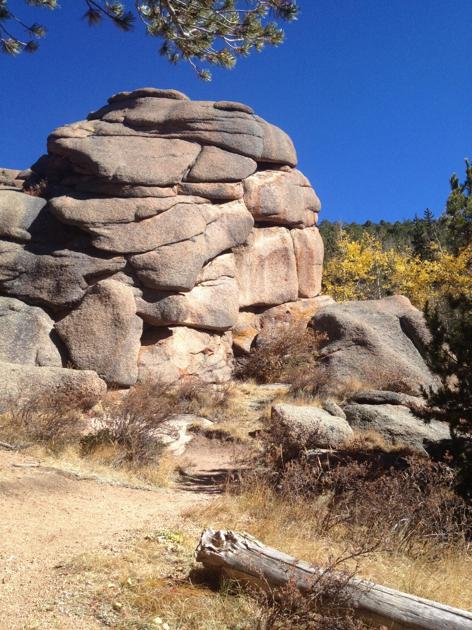 Raspberry Mountain near Divide offers views and bays | Take a hike | North Springs Edition
From Colorado Springs, head west into the mountains on US 24 for approximately 25 miles to Divide, then south on Colorado Highway 67 for approximately 4.25 miles before turning left on Forest Service Road 383. Follow the winding dirt road approximately 2.5 miles to the large parking lot on the left. Note that this location is now the official starting point for the Raspberry Mountain Trail.
Cross the sturdy bridge and continue into the shaded spruce and fir forest where the song of the Hermit Thrush reeds echoes in the trees.
Follow steep but short switchbacks to a ridge, then head north over flatter terrain with open meadows. After approximately 0.75 mile cross a creek then cross FS 385 and turn right.
Head northeast on the old road for about 0.75 mile and keep an eye out for an intersection and turn left on the Raspberry Mountain Trail, which begins on an old 4WD road. Head west a few hundred yards to another intersection and turn right to begin the climb to the top of Raspberry Mountain.
The summit trail lacks switchbacks so the climb of about 500ft is steep and straightforward but still moderate on the difficulty scale. Think positive because there is only about 0.75 mile left to the top of 10,605 feet. The trail fades out as hikers approach rocky areas and boulders, look for cairns marking the path up and to the left to complete the climb to the top.
The summit block features rocky outcrops reminiscent of the nearby Pancake Rocks. Climb the rocks for scenic views, with the North Slope reservoirs to the east, Pikes Peak and Sentinel Point to the south, the Sawatch and Sangre de Cristo ranges far to the west, and a vast open landscape to the north.
Hikers will indeed encounter raspberries along the route including the summit area, but note that many plants at the top with a different leaf shape and larger white flowers are a variety known as Boulder Raspberry. Boulder raspberries are very shabby and basically inedible.
After you have rested a bit at the top, return to the route to the trailhead.
Joe LaFleur has lived in Woodland Park since 2016 and is an avid hiker who hikes the trails weekly. Contact Joe with questions or comments at [email protected]. Hiking is great exercise, but can be dangerous. Always make sure to plan well, check the weather, bring a printed map, tell someone where and when you are going, and contact them when you return safely.