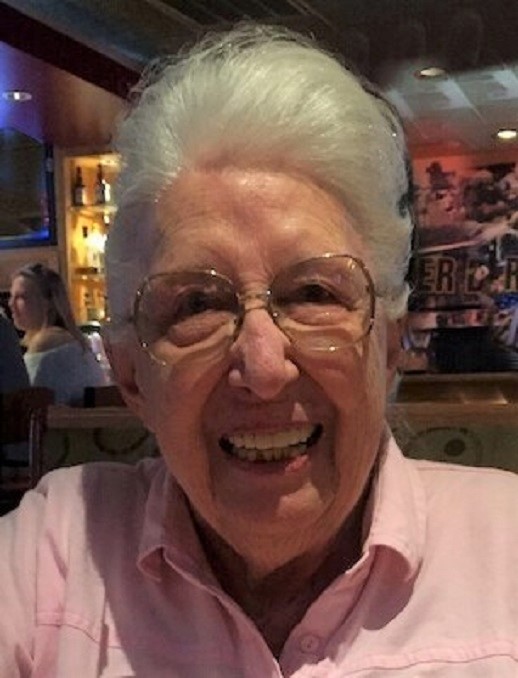 Catherine K. Anagnost | Wiscasset Journal
On July 6, 2021, Catharine Keely Anagnost, formerly of River Vale, New Jersey and Ocean Point, Maine, passed away peacefully at the Allendale Community Center for Senior Living in Ramsey, New Jersey.
Catharine, affectionately known to family and friends as Kitty, is survived by her 68-year-old husband James Anagnost, also a resident of the Allendale Community Center. The other immediate surviving members of the family are her daughter Alexandra, her husband James Theriault and their grandchildren Stacy and Spencer of Belgrade, Maine; son Alan and wife Linda of Milford, Pa., grandchildren Grace Anagnost, Jason Randlett, wife of Jason Katharine and great grandchildren Eleanor and Fiona; son Robert and friend Kim of Ocean Point, Maine. Catharine's first son, James Bradley, died in a car crash in 1983.
Catharine was born in Charlestown, West Virginia on September 7, 1929, the daughter of Robert Archer Keely and Catharine Potter Keely. After the tragic death of her father in a swimming accident, she was raised by her maternal grandparents in Florida and Connecticut and graduated from high school in 1946 and from Mary Washington College (Fredericksburg, Virginia) in 1950 with a degree in chemistry. After spending a few years working in health technology in Connecticut, she met the soul mate of her life, James, and married on May 13, 1953.
Catharine and James lived in many places and eventually made their home in River Vale, NJ, where they raised their family and resided for the next 60 years. While New Jersey was Kitty's primary residence, her emotional and vital home was Ocean Point, where her family spent the summer for many years. It was in the summer of 2015 that Catharine proudly celebrated her 80th summer at her beloved Bayview Cottage. Numerous family reunions, barbecues and long walks along the beautiful coast of Maine sustained his soul. His love of Ocean Point instilled in him the desire to create and co-write a book covering the history of all the cottages and families in the Ocean Point community. This effort was published in 1991 and titled "An Historical Survey of Ocean Point Architecture" (A Walking Tour of a Maine Summer Community) by Catharine Keely Anagnost and Harold A. Pinkham Jr., Ph.D. His research and writings have led to many happy interactions and conversations within the community she loved.
Kitty was also a passionate patron and advocate for the arts. She loved to visit museums of all types and was a long-time member of the Metropolitan Museum of Art in New York City. One of her favorite things to do was taking children and grandchildren on guided tours of the museum to share beautiful treasures from the past. She had a very good knowledge of various aspects of the arts and enjoyed sharing her knowledge with her family and friends.
Another significant passion for Kitty was her genealogical study throughout her family's past as she spent years researching paternal and maternal family trees. Browsing through various municipal offices, municipal libraries and church archives, she was able to trace her family lines back to the 1600s. This was done long before Ancestry Dot Com was made available to the public. She was immensely proud of her family history and loved to share stories with her family, friends and anyone interested in the subject of genealogy.
In the end, he was an interesting person who shamelessly lived his life on his own terms.
At Catharine's request, she will be buried next to her mother in Glenville, New York, where immediate family will gather for a private ceremony near the grave later this year.